Reviews
"Rosemary Tuck makes a fine case for all this interesting, worthy music.."
GRAMOPHONE
"Rosemary Tuck's playing is virtuosic but maintains the music's charm with clever agogics and fine dynamics."
PIZZICATO
"It only remains to praise all of these performances, the excellent recorded sound, and the perceptive notes by the pianist. Resistance is futile, so gather a snack, a drink, and prepare for an aural feast."
AMERICAN RECORD GUIDE
"Australian pianist Rosemary Tuck gives an ideal performance that often bends towards the classical rather than the romantic. That said, she handles the Weber and Chopin 'nods' with great skill and imagination."
MUSICWEB INTERNATIONAL
"The Australian pianist Rosemary Tuck captures wonderfully the spirit of the music with her "jeu perle", an unforced, lightly flowing touch in which she joins every separate note together like precious pearls on a string."
FONO FORUM
"Australian pianist Rosemary Tuck demonstrates the beauty and delicacy of the filagree melodies in the first movement, and the cadenza, written by Tuck and Alan Jones, glints and glitters. Tremolo passages in the compact second movement dance like butterflies.The third movement sees Tuck tear up and down the keyboard, masterfully managing the scale-like passagework."
BBC MUSIC MAGAZINE
"Rosemary Tuck's technical poise and genuine feeling for the idiom make a compelling case for these flawed but interesting works."
GRAMOPHONE
"...a truly remarkable soloist who seems to be coping with Czerny's abundant playing hurdles with complete ease and, moreover, with an individual tone and cantabile quality that makes it bliss."
THE NEW LISTENER
"This, in fact, is Rosemary Tuck and Richard Bonynge's second album of Czerny's works for piano and orchestra, and on evidence of Tuck's playing here, I'd have to say that she is a pianist of formidable talent and quite dazzling technique."
FANFARE
"Naxos label star Rosemary Tuck moves like a fish in water in this pyrotechnic repertoire, effectively accompanied by Richard Bonynge leading the English Chamber orchestra."
RITMO
"Pianist Rosemary Tuck plays them with great sensitivity and brilliance, and Richard Bonynge and the orchestra offer strong support."
CLASSICAL CD REVIEW
"Tuck makes it clear that one can still have the pleasure of these pieces, which are more developed for the demonstration of virtuosity as an expressive interplay. Of course, there are circus acts - but it's artistry at the highest level, one can not fail to respect. Bravi!"
OVERTURE
"Australian pianist, Rosemary Tuck, despatches each work with real panache and elan, making light of the often complex pianistic gyrations and fireworks. She is also well able to treat the more serious parts with appropriate, if not necessarily tongue-in-cheek, solemnity."
MUSICWEB INTERNATIONAL
"Tuck shapes the melodies firmly, and she and Bonynge are completely in tune with each other"
FANFARE MAGAZINE
"Tuck's heart-rendering performance was both inviting and spectacular."

SEEN AND HEARD INTERNATIONAL
"Light and elegant, full of passion, brilliant, devoted, and totally loyal to the composition, this is Rosemary Tuck."

HORSENS FOLKEBLAD
"Rosemary Tuck played Ginastera's 'Argentine Dances' with a sparkling intensity and rhythmic drive; while in the two works by Chopin she revealed the most delicate of timbres, like pearls of dew passing through her fine touch."

JYLLANDS POSTEN
"A sensitive musician whose first concern seems always to be the character of the composition at hand."

NEW YORK TIMES
"The music was for the ears what the graceful charm of a ballet primadonna is for the eyes. Dashing ease in whirling glissandos, authority of touch in dramatic culminations; and a youthful sensibility in the secluded passages so that you as a listener nearly felt shy about being present. There was a whispering comment from the row behind me saying it sounded like a whole orchestra"

ARHUS STIFSTIDENDE
"To all theses challenges and more the talented Rosemary Tuck is fully equipped. She relishes the demands, and is stylistically apt and full of colour, vivacity and lyricism."

MUSICWEB INTERNATIONAL
"The piano playing and sound is terrific – often thrilling."

AMERICAN RECORD GUIDE
"Perhaps most striking is the dazzling Grande Fantasie La Cracovienne, composed for new Orleans in 1842. Strongly evoking Gottschalk, it has become almost as much Miss Tuck's calling card as it was Wallace's."

GRAMOPHONE
"The disc is enormous fun. Tuck, and Australian pianist , has the technique and flair for this kind of thing, and it is extremely enjoyable to hear tunes that are old favourites in new garb."

FANFARE
"Rosemary Tuck dispatches all with admirable grace and aplomb."

GRAMOPHONE CRITIC'S CHOICE
"Since Wallace himself was a competent virtuoso pianist (as well as violinist) he developed a flamboyant style that is well-captured in Rosemary Tuck's accomplished playing. Assertive and energetic readings of forte passages are nicely contrasted with delicate and crisp articulation of fine detail in pianissimo sections. Her handling of intricate filigree and dynamics is a delight to the ear. It is good to see that Rosemary Tuck has joined forces with Richard Bonynge, perhaps the world's most notable authority on Wallace the composer. They clearly work ideally as a team."

MUSICWEB INTERNATIONAL
"Her splendid performance of thse Celtic Fantasies demonstrate the composer's pianistic virtuosity and in so doing reveal something of a debt to Mendelssohn and possibly Schumann and Chopin, weaving styistically predictable yet impressive variations around familiar Irish tunes."

MUSIC & VISION
"Rosemary Tuck played Ginastera's 'Argentine Dances' with a sparkling intensity and rhythmic drive; while in the two works by Chopin she revealed the most delicate timbres, like pearls of dew passing through her fine touch."

JYLLANDS POSTEN
"Even relatively simple music needs to be played with skill, clarity of vision and honestfeeling. Tuck shows these in abundance, producing another lively, engaging recital."

BBC MUSIC MAGAZINE
"Tuck and Bonynge have this music in their blood. It just ripples forth..."

FANFARE
"That any relative longueurs are few and far between also speaks volumes for the wholly winning efforts of Australian pianist Rosemary Tuck, whose ideally deft and scintillatingly assured performances have been most truthfully captured..."
GRAMOPHONE
"The piano soloist Rosemary Tuck played with complete success, giving full value to both the poetry and virtuosity in the score."
CANBERRA TIMES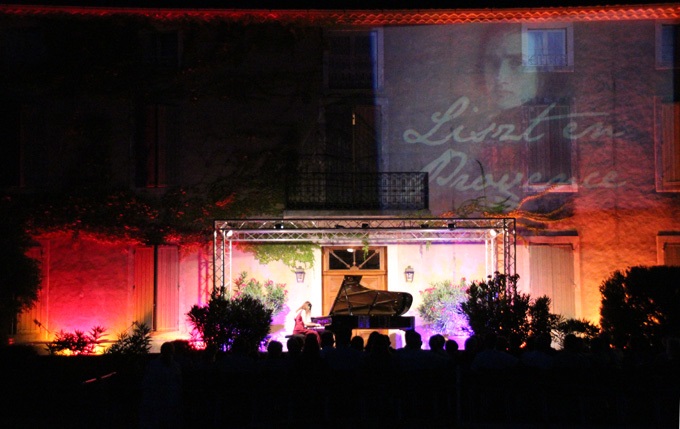 Photo: Sortir ici Ailleurs