ROSEMARY TUCK

Art Dip. M.Mus. BA.Mus, ASCM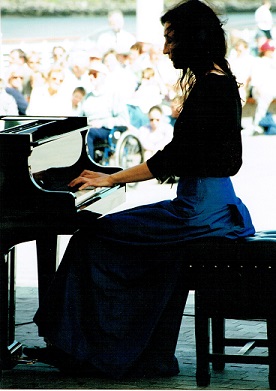 Internationally acclaimed for her vibrant Artistic command, Sydney born pianist Rosemary Tuck reflects her broad musical interests in programs of wide-ranging scope and imagination.
She has performed worldwide including at the Carnegie Hall, the Sydney Opera House, National Concert Hall in Dublin, the South Bank Centre, Wigmore Hall and St Johns Smith Square in London, and at the Aarhus Musikhuset where she appeared live on Danish Television in the presence of Queen Margrethe II.
Her touring takes in the UK, Ireland, Denmark, Australia, New Zealand, Asia, France, Cyprus and the USA, with festival appearances including the Aarhus, Wexford, Vendsyssel and Liszt en Provence.
Concerto performances include the English Chamber Orchestra, South Bank Sinfonia, ABC Sinfonia and Orchestra of the City in London.
Her series of piano music by William Vincent Wallace for Naxos was critically acclaimed, and a Critics Choice in Gramophone magazine. Two earlier discs of Wallace on the Cala label resulted in 'CD of the Week' on ABC Classic fm, and she was later highlighted in a RTE Lyric fm series exploring Wallace's life and music. Rosemary also featured in a program on Albert Ketelbey for BBC Radio 4; and in 2021 A Dream Picture, her latest Ketelbey disc on Naxos, was 'Album of the Week' on Scala Radio.
In 2001 Rosemary gave the first official performance in the William Vincent Wallace Millennium Plaza in Waterford, Ireland. Since a concert together in 2004, she has worked closely with Richard Bonynge as both soloist with orchestra and collaborative pianist. They performed with the Southbank Sinfonia in London for the Wallace Bicentennial Celebrations in 2012, and since 2015 have been recording a series of piano concerti by Carl Czerny with the ECO for Naxos, all of which featured in the UK Specialist Classical Charts. The latest disc, which includes Czerny's Second Grand Concerto, was chosen as one of Musicweb International's Recordings of the Year 2020.
She was Artistic Director and pianist for Richard Bonynge's 90th Birthday Gala, which premiered in September of 2020: Leading Artists Pay Tribute
During 2021 Andrew Schultz wrote Rosemary his first piano concerto - a major work with a slow first movement: Cantilena Ocean Sky (Expansive, tender and slow) and a fast and dramatic moto perpetuo second movement: Canticle of the Birds (In constant flight - fast). Commissioned with assistance from the Australian Music Foundation, the work is dedicated 'In memoriam to Richard Meale', and draws on some of the sketches and ideas from the uncompleted piano concerto Meale was writing for her, which he titled Simurgh.
Rosemary was also featured in a radio play commissioned by ABC Classic FM on the life of pianist Eileen Joyce, in collaboration with writer Brian Matthews. While she takes a special interest in the music of Wallace and his contemporaries, her programs can range from Bach to Ginastera, and any one season can be as diverse as the Schubert Wanderer Fantasie, Chopin's Ballade in f minor, the Sofia Gubaidulina Chaconne, Liszt's Mephisto Waltz No.1, late Beethoven sonatas and premiere performances of new music. She has been a Steinway Artist since 2009.
Since 2004 she has been on the committee of the Tait Memorial Trust , assisting young Australian artists abroad.
Photo: Anne Halley